Operation Windsor is a scenario in Back to Hell, set on the Carpiquet airfield on July 4th, 1944.
Briefing
[
]
Operation Windsor covers the Canadian attempt at reducing the Carpiquet airfield salient held for a month by 12. SS-Panzer.
On July 4th, in the wake of a tremendous artillery barrage, the 3rd Canadian Infantry Division, supported by the tanks of 2nd Canadian Armored Brigade, launches a two-pronged attack on Carpiquet & its airfield.
But capturing the village in close combat is one thing, crossing the runway in the face of 88mm guns is another …
Historical outcome
[
]
Despite a staunch resistance from a reduced company of young SS-Panzergrenadiers, the two Canadian battalions sent against Carpiquet village managed to secure the city after two hours of house-to-house fightings with the help of British 'Funnies', then held it all day against German counter-attacks.
Things didn't go as well for the lone Canadian battalion sent against the hangars, which soon got several of its supporting tanks knocked out in the open by a German 88mm or dug-in tanks. After the initial assault got stopped in its tracks, a second one later in the day secured the hangars ...
... but the control buildings proved too tough a nut to crack. Attacking in the wake of the fall of the hangars with massive air support, the Canadian tanks had to nonetheless move across the landing strip, completely in the open and in view of the German tanks & AA guns. After losing a dozen Shermans in short succession, the attack was called off.
Although most of the airfield was now in Canadian hands, Operation Windsor's goal of completely removing the German salient at Carpiquet wasn't met.
Objectives
[
]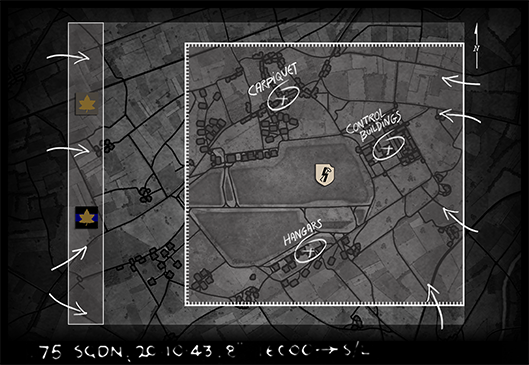 Canadians
Capture both Carpiquet village, the hangars & the control buildings.
Avoid Excessive casualties.
Germans
Hold as much objectives as you can among Carpiquet village, the hangars & the control buildings.
Inflict enough casualties to break the Canadian morale.
Available forces
[
]
Canadians
[
]
3rd Canadian Infantry Division: this mostly infantry force is supported by a few British AVRE & Crocodile tanks, its 25-pdr own divisional artillery as well as rocket Typhoons from RCAF. But almost entirely lacking tanks, it will have to rely on its armored counterpart to advance in open terrain.
2nd Canadian Armored Brigade: but for a few scouts, this force is entirely composed of armored vehicles, mostly Sherman III, Sherman V & Firefly. Also attached to it are several artillery observers and a few Typhoon close air support planes. Lacking infantry, it will have to rely on its counterpart to advance in urban or wooden area.
Germans
[
]
Kampfgruppe Krause: this battlegroup is built around three companies of (motorized) Panzergrenadiers, reinforced with a few support weapons, among which six precious 88mm Flak guns. Krause's mission is to hold long enough for reinforcements to arrive.
Reserve-Abteilung: this ad hoc battlegroup regroups everything Kurt Meyer could muster and send to Krause's rescue, from a few Panthers to massive heavy artillery support, or even walking wounded units !"