Cote 112

General data
Environment
Densely forested area
Cote 112 is one of the battlefields found in Steel Division.
Background
[
]
Hill 112 witnessed one of the bloodiest series of battles during the entire Normandy campaign. Anglo-Canadian forces targeted it as part of Operation Epsom. On June 28, the 11th Armored Division moved forward. 23rd Hussars with infantry assaulted the hill and managed to seize its northern slope and crest, but dug-in German units on the reverse slope proved too difficult to remove and launched fierce counterattacks. Facing heavy German counter-attacks across the front and with the vulnerable positions elsewhere, Hill 112 was vacated the following day, allowing the 10. SS-Panzerdivision to seize the hill without opposition. Although they controlled the hill, artillery fire from Allied units ensured they could not launch organized offensives. The hill remained in German hands until Operation Jupiter, launched on July 10, which allowed the 43rd (Wessex) Infantry Division to capture the Hill again - parts of it. The July 11 counterattack by the 10. SS-Panzer and Schwere SS-Panzer-Abteilung 102 pushed the Brits back to the northern slope, while suffering irreplaceable losses. The Hill of Calvary was occupied by British forces once again on August 4, after Nazi forces were forced to retreat to the east.
Sectors
[
]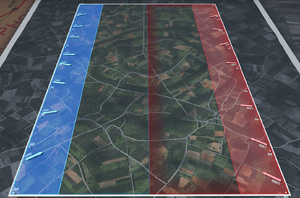 Hill 112 is not named the Hill of Calvary for nothing: The centrally-positioned plateau is protected from all sides by natural features, obscuring lines of sight and making any assault on it a problem. The roads centering on Hill 112 also pass near forested areas, making anti-tank and infantry units operate with a tremendous advantage. In Conquest mode, whomever control Hill 112 can effectively control a large part of the map.
Strategies
[
]