Carpiquet is one of the battlefields found in Steel Division.
Background
[
]
The Village and Airfield saw battle action between the parts of the 12 SS Tank Division and the SS Panzergrenadier Regiment 26 and the 8th Canadian Infantry Brigade and the Canadian 10th Armoured Brigade in early July. The battle was part of the Operation Windsor. The Canadians were able to capture the Villiage relatively fast with help of artillery and barrages of the HMS Rodney.
But the Airfield was much heavier entrenched and both sides took high casualties in the hard fighting, but in the end, the Canadians were able to occupy the whole airfield and village on the 4th of July. On the 5th of July the 1th SS Panzer Division began a counter attack to retake the village, but even though the Canadians were weakened by the losses of the days before they were able to withstand the attack and hold the village.
Sectors
[
]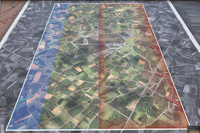 Its major objectives are the huge Airfield in the middle of the map and the small village of Carpiquet beside it. The airfield bisects the map, creating a large, open space with excellent lines of sights in the center. Its left flank is dominated by the highway, while the right by the village of Carpiquet.
Highway
[
]
Excellent lines of sight along the highway, broken up by groves. As the highway and the road connecting to the airfield are the only ones with a hardened surface, flanking is slowed and control over the road pivotal to victory.
Airfield
[
]
A brutal struggle for control over the airfield is inevitable, as there's no cover in the center and bold thrusts will be exposed to attacks from the flanks. Flanking around the airfield will prove problematic, due to the built-up hangars and woods.
Carpiquet
[
]
The most varied area on the map, with a developed road network, particularly near the town. This sector will see high mobility attacks and plenty of ambushes on the way.
Strategies
[
]